Filippa Lagerback has chosen Emma Villas to visit Siena!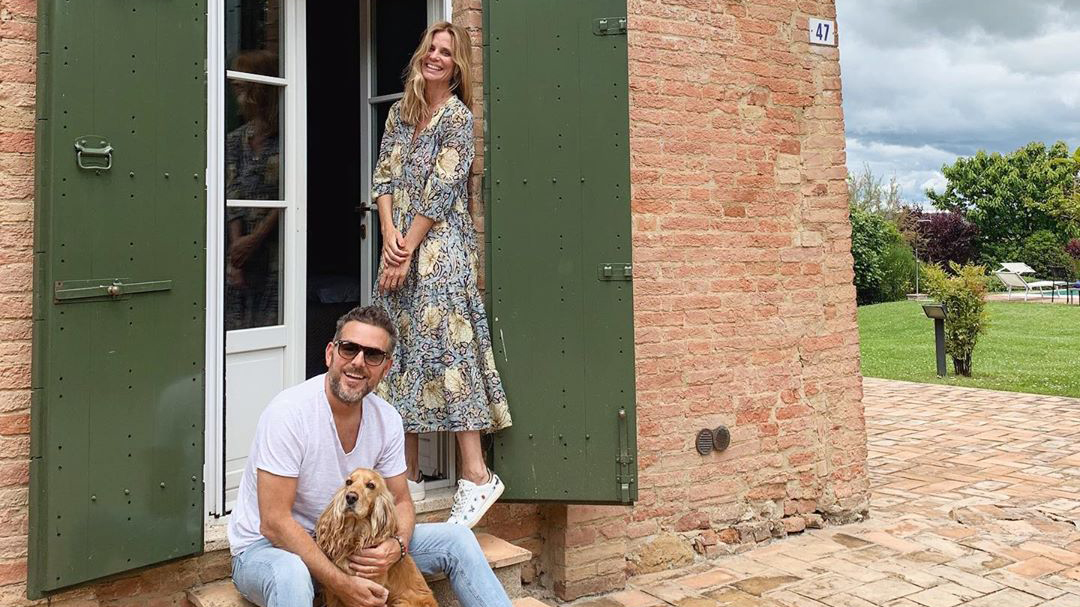 This post is also available in:
The well-known TV presenter has chosen Finestra su Siena, our beautiful property close to the wonderful Città del Palio.
Born in Sweden but naturalised Italian, Filippa Lagerback is one of the most well-known television presenters of the moment in Italy.
She made her debut in the Bel Paese as a photographic model which paved her way to  show business, immediately finding success on the small screen.
She has collaborated with the most important names in Italian television and cinema, such as Rosario Fiorello, Giuseppe Veronesi, Marco Balestri, Gene Gnocchi, Fabio Fazio and Luciana Littizzetto.
A memorable presenter of the television programme Che tempo che fa  on Rai 1, Filippa deeply loves nature and feeling good (so much so that she is the female face of Bike Channel on Sky).
She has chosen a place not far from a great art city like Siena to regenerate and rest together with her husband, Daniele Bossari, another memorable face of Italian television and radio, her family and a few friends.
Filippa Lagerback has chosen Finestra su Siena, less than 10 km from the historic town centre of the most Gothic city in Tuscany, a unique concentration of artistic and architectural, environmental, cultural and gastronomic wonders.
This old stone farmhouse sparkles once more thanks to an exclusive recent restoration that has preserved the original architecture while adapting it to a contemporary style, practical but of great elegance.
The pickled wooden beams, the tones of the interior walls with their wraparound effect, the light-coloured doors and windows, the wooden floors alternating with the original ones in terracotta, the classic furnishing combined with accessories of modern design, are just some of the characteristic features of this imposing, four-storey building, comfortably able to accommodate up to 16 people.
Guaranteeing service at a high level of comfort are large common areas with cosy sitting rooms, modern kitchens on the main floors as well as air-conditioned bedrooms with beautiful private bathrooms.
Completing this idyllic picture is a well-tended park, an exclusive swimming pool and a splendid view, stretching over the rolling green hills dotted with vines and olive trees, that frames the city of Siena: the perfect place to regenerate body and spirit, pampered by the rhythms of nature.
Finestra su Siena is also close to all the most sought-after destinations around the medieval city of the Palio: the valleys of the Orcia and the Chiana, the Crete Senesi, Chianti and unmissable borghi of eternal charm such as Montalcino, Pienza, San Gimignano and Montepulciano, all easily and quickly reachable along splendid panoramic roads bordered by soaring cypress trees and enchanting landscapes.
Well connected to the main highways leading to tourist destinations and airports, the property is close to the train station and to the main shopping centres of the city (7 km).
Emma Villas has been chosen once again to guarantee a high-level villa to Italian VIPs, with great satisfaction from all the staff who work daily to give their customers their best Italian vacation.
Emma Villas would like to thank the owner of the structure for all his helpfulness and dedication in making Filippa Lagerback's stay as comfortable as possible at Finestra su Siena.
Furthermore, a big thank you goes to the solid partnership with MOA – Master OF Arts, the internationally known shoe brand.