Casale Bonaventura and the Art's region: discover it!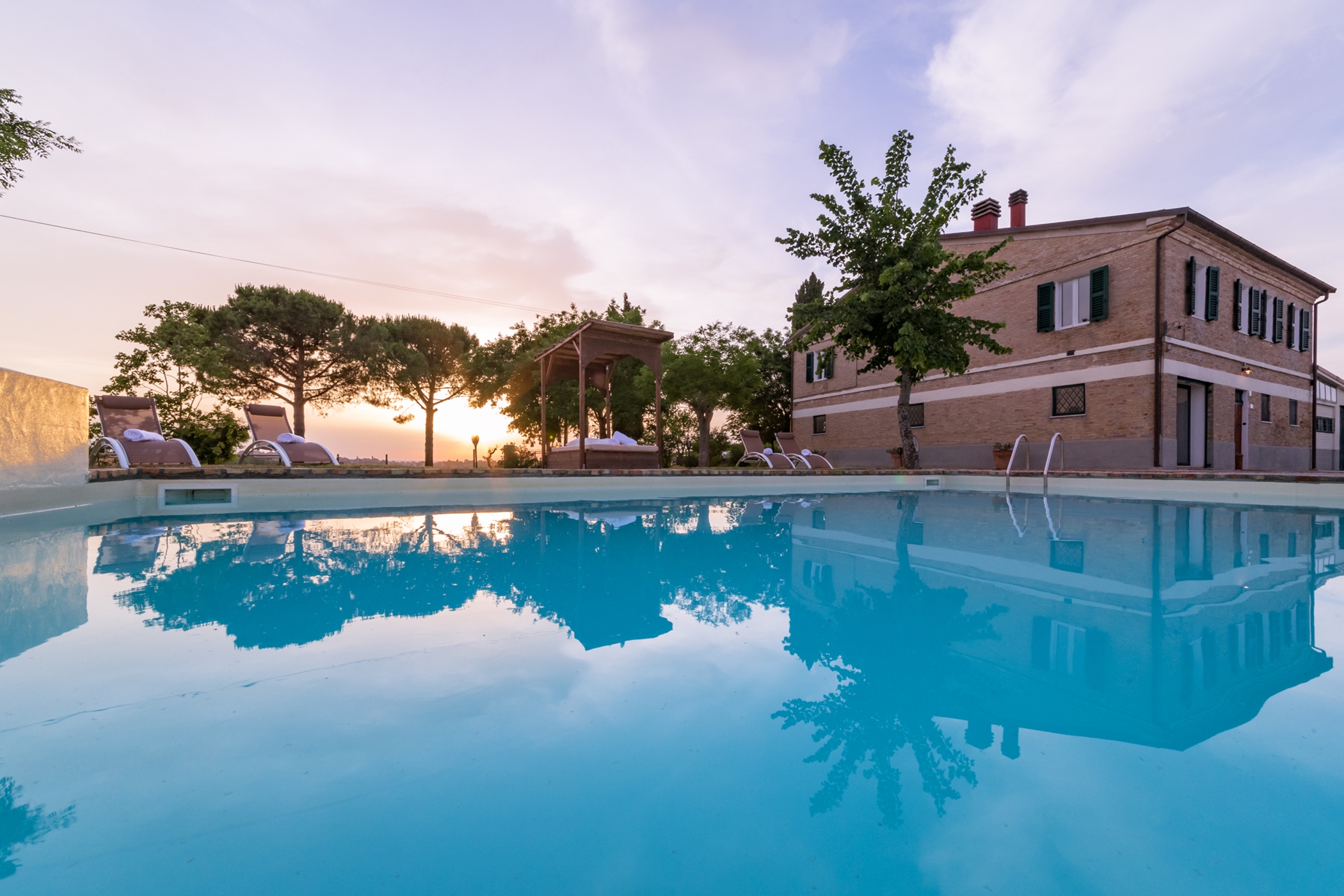 This post is also available in:
Set amongst hills of wheat and fields of sunflowers in the enchanting Marche countryside, surrounded by the aromas and scents of the past, stands Casale Bonaventura.
An old farmhouse restored in accordance with "conservative restoration", with the aim of preserving the original aesthetic aspect and architectural structure, enhancing and maintaining the original floors and doors.
In perfect country style, internally as well, with tones ranging between old and rustic, equipped with every comfort, it will allow you to experience a holiday in total tranquility and simplicity.
Romantic sunsets can be seen from the house as well as panoramic views of two characteristic towns like Morro d'Alba, home of the delicious intense wine, "La Lacrima di Morro d'Alba", and Ostra, historic borgo of art and culture.
Interior
Casale Bonaventura has two floors connected on the outside.
Entrance to the ground floor is through a French window which leads to an open-plan area consisting of kitchen and dining room. Completing the floor is a guest bathroom and a laundry room with shower.
Next to the French window is a wooden door leading directly to the stairs up to the first floor which consists of: a double bedroom with en-suite bathroom with shower, a twin bedroom with joinable beds, a bedroom with queensize bed and another double bedroom, all served by a second bathroom with shower.
On this floor is a sitting area with TV and sofas and a kitchenette for use of the sleeping area.
Park
Casale Bonaventura is surrounded by a level park that is mainly lawn and embellished with many varieties of plants: trees such as pines, mulberries, cypresses, acacia and plane trees, herbs and bushes such as laurel, rosemary and lavender and fruit trees such as cherries and apricots which guests can pick.
Next to the pool, and just a few steps from the kitchen, is a lovely gazebo, furnished with table and benches where you can dine thanks also to the built-in barbecue, with a view of the hills below.
Also close to the main entrance is a pergola set up for games with table football, ping-pong and a rocking horse for kids.
Swimming Pool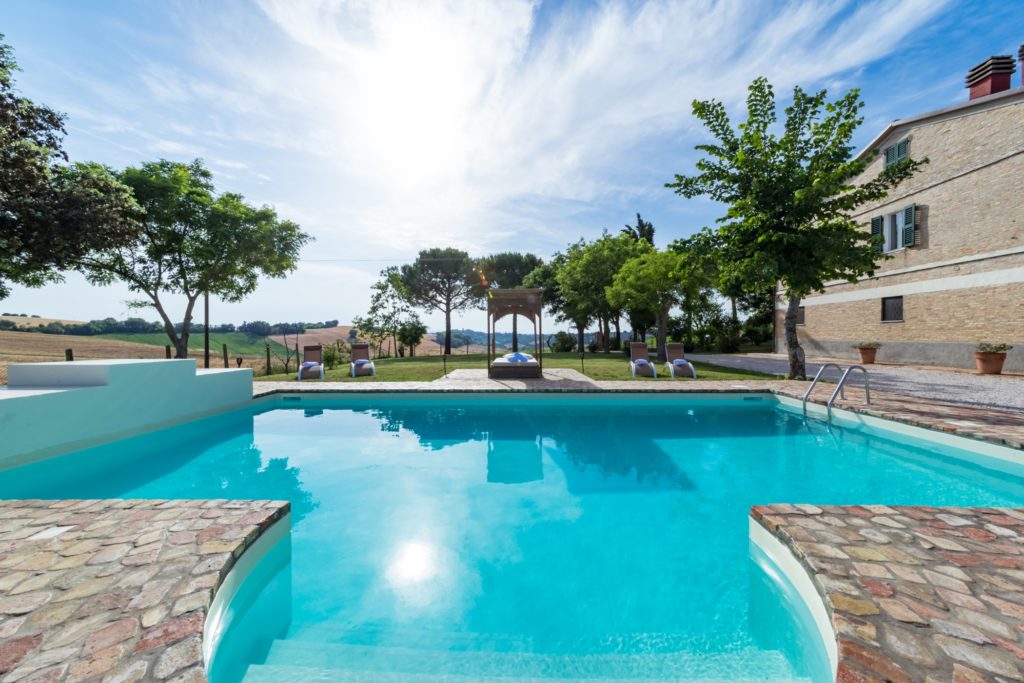 The rectangular pool, situated on one side of the house which is only 5 m away, measures 10 x 5 m with a constant depth of 1,50 m and is purified with active oxygen and UV lamp. Lined in sand-coloured PVC, it has both internal and external lighting and Roman steps for access to the water. In the pool area is a completely ecological, solar-heated shower. The sunbathing area, partly paved and partly lawn, is equipped with sunbeds and a 2-person chaise longue. The pool is available to guests from the last Saturday of April to the first Saturday of October.
Location
Casale Bonaventura's position in the Marche hills is perfect for exploring interesting tourist and food and wine itineraries.
Noteworthy is nearby Morro d'Alba with its cellars which are always open for tasting of local wines and typical products.
An hour's drive away is Macerata, part of the association of Città d'Arte e Cultura (Art and Culture towns), where you can visit the Sferisterio, or choose one of the performances of the summer season of the Macerata Opera Festival.
Just 20 km from the property is the shopping centre, Il Maestrale, close to the coast while just 15 km away is the seafront of Senigallia with its elegant promenade of shops and chalets for every need, from families with children to dancing evenings.
Discover more about Villa Bonaventura on our website!