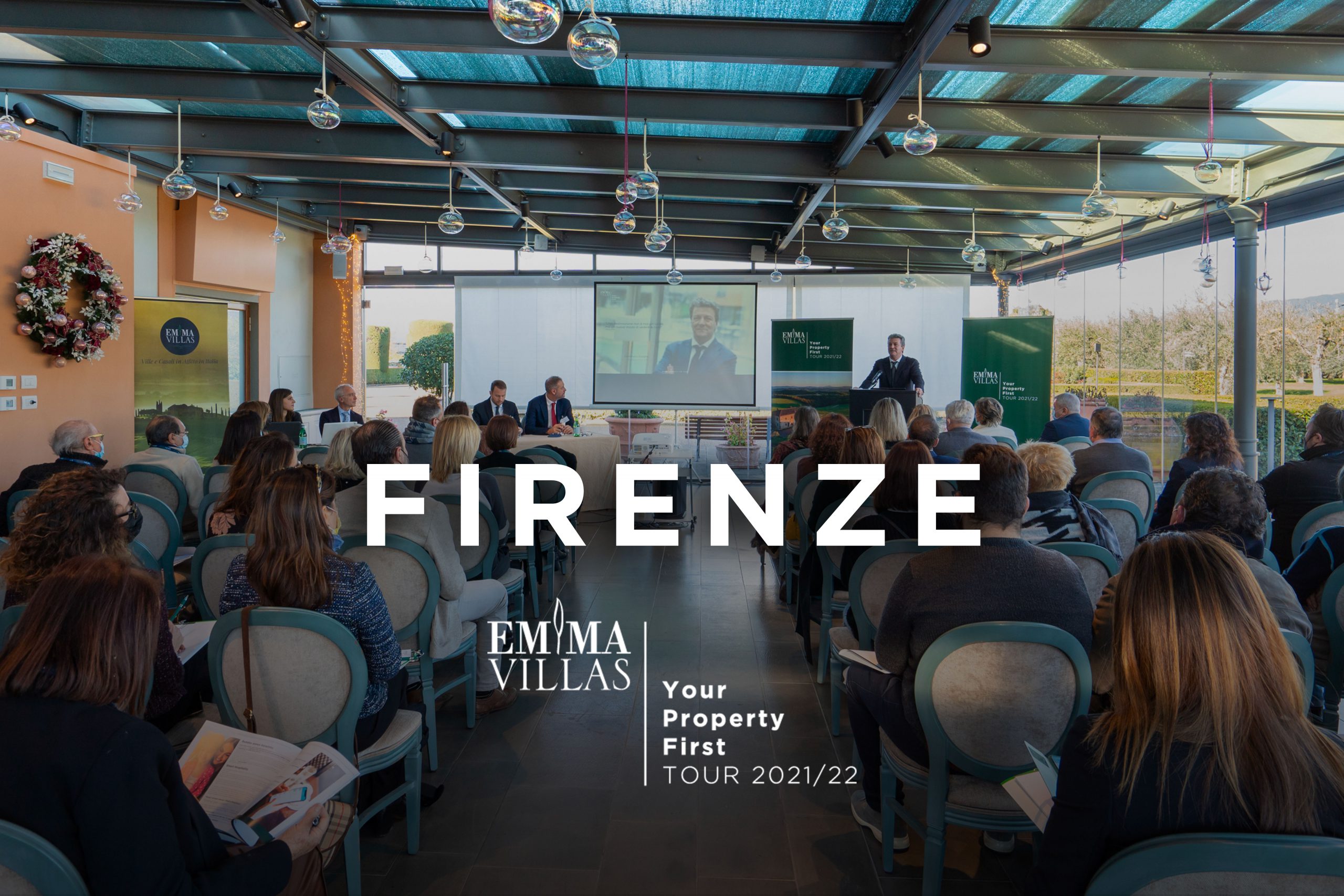 This post is also available in:
2-3.12.2021
All-Florentine third and fourth stages
With today December 3, 2021, another day of meetings between our staff and the owners of central-northern Tuscany has ended. A big thank-you to all the participants, as it was a wonderful opportunity for us to meet again!
The 2021 meetings will conclude with the next stage, but we'll meet again on January 14 in Rome, and then continue with Rimini, Ostuni, Milan and Catania.
Interview with Riccardo Ansaldo, Emma Villas Portfolio Area Specialist
What's your history with Emma Villas?
My history with Emma Villas goes back a long way. I met Giammarco twenty years ago: he was involved in the buying and selling of properties and he suggested to me that country houses should be put on the tourist market. We became good friends – I consider him as a younger brother – and we started sharing this kind of experience together even though I was in another professional sector and in other places.
After many years I decided to work with him, now I am part of Emma Villas and work in this family with great satisfaction.
Tell us your role and how you work within Emma Villas
I am part of the commercial sector and work across the whole national territory. My task is to develop the Emma Villas product but above all to create a network of collaborators who can be more widespread in the area in order to give more support to the owners as well as to facilitate the finding of new properties.
How did it go this year?
This year has gone very well from both a sales and acquisition point of view. This new strategy of having intermediate figures between the owner and the historic agents paid off and we were able to reach areas that were poorly supplied with our product and with the presence of Emma Villas figures. This project is working and certainly in the next few years will do even better.
Emma Villas Tour 2021/22, how important is it in building relationships with owners?
Fundamental. Rather than having the owners come to the company and presenting the departments and people – because a company is made up of people – going, with most of the staff, to the owners' places is something innovative and very important for a niche sector like touristic villa rentals.
Interview with Anna Ormeni, owner of Giornolungo (Tuscany, Pistoia, Montecatini Terme)
I got to know Emma Villas ten years ago after analysing offers from other companies. Right from the start, with my first contact, Fabrizio, I realized I was dealing with a company that could be very family-like. We started many years ago, we gradually increased our work and, whatever problem I have encountered, I have always been able to count on people who are always available, even on so-called holidays.
I love my home but I fell in love even more with the way I could use it. Two years ago when the pandemic arrived, I was very worried about the dramatic situation in tourism. But the company's reaction was surprising, instead of losing heart it started producing TV commercials, giving us and the brand new visibility. And despite everything that had happened, in high season I was able to work as in previous seasons, obviously in compliance with the health rules. Emma Villas provided us with all the information and assistance in this, from forms to sanification, and we worked together to ensure that the season was productive.
Why are you here today?
Because after two long years without meeting in person, a family reunion is needed. I have found several innovations which help the client more, and us owners as well. Being able to handle many bureaucratic tasks with the app helps us a lot, so that when the client arrives in the villa we can dedicate the whole time to give him information and show him around the house after a journey that may have been very tiring.
I hope my children will also continue this business. I expect innovations in the next few years as well, thank you Emma Villas.